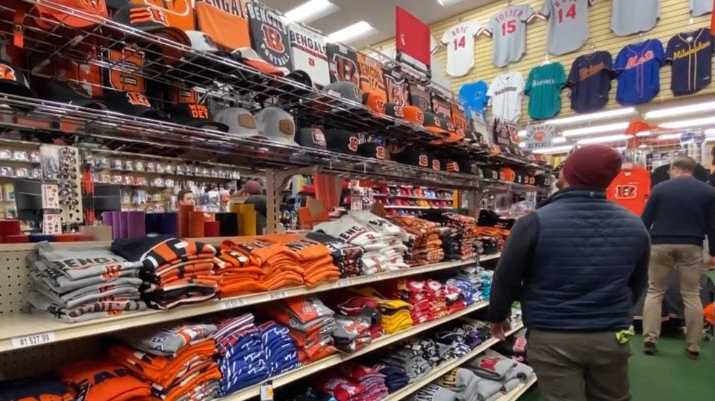 Bengals fans share excitement as team aim for first playoff win since 1990
If you don't wear orange and black by Saturday, your Cincinnati passport and all Who Dey privileges will be revoked. At least that's the feeling you have around Suzanne Christian. "Oh my God. It's the most, it's the best thing for Cincinnati, the best thing for the Bengals. I mean we're so excited," she said, scanning the jerseys, the hats and Bengals merchandise at Koch's Sporting Goods in downtown Monday. "It will be Bengals Saturday." It will be a winter giveaway for the DORA district and a boon in January for water points like the Holy Grail. The first two months of the year are normally a downtime for bars and restaurants along the river. "We are with the beer vendors as we speak right now, trying to bring two sports trucks here on Saturday because we think it's going to be such a big day, "said Jim Mohring, owner of The Holy Grail. Kitty's Sports Grill near Third and Elm is closest to Paul Brown Stadium. Billy Watson will spend three days smoking thousands of wings. Watson said. What Ko ch's Sporting Goods on hand goes quickly. The supply chain still does not seem to gain many yards and will no longer produce jerseys. "Knit cups are a problem," said Chris Koch. "Any of the hats and we're lucky to have the champion hats here." Six of them were left by mid-morning. We watched Matt Davis chase another Ja'Marr jersey. "Thirty years," he said. . "And with Burrow and Chase, not to mention the youngsters, it's a new era for the Bengals." Anticipation was starting to build on Monday for the end of a 31-year playoff drought. Saturday, Christian could not contain his enthusiasm. "I say it right away until they win. Every second, who dey. Isn't it? Here we go, who dey," Christian said. No one could blame him. This is arguably the biggest Who Dey week in 31 years. Bengals fan Jim Foster joked that he might not be able to sleep on Friday night. He is a longtime fan with four sons ranging in age from 20 to 30. They don't know what a playoff victory celebration looks like in this city. He hopes they find out after Saturday's block party near the stadium. people at the tailgate. We have local breweries, sixteen lots. We're going to have tons of food, enjoy it and we're just going to have fun, "Foster said. Cincinnati Center City Development Corporation will have face painting and a DJ starting at one in the fountain plaza where the rink will be open and the game will be displayed on the LED panel. It will be in the 1930s outside. But the two words most used that day will not be "I" am cold ", it will be" Who dey? "
CINCINNATI –
If you don't wear orange and black by Saturday, your Cincinnati passport and all Who Dey privileges will be revoked.
At least, that's the feeling we have around Suzanne Christian.
"Oh my God. It's the most, it's the best thing for Cincinnati, the best thing for the Bengals. I mean we're so excited," she said, scanning the shirts, the hats. and Bengals merchandise at Koch's Sporting Goods on Monday downtown. "It will be the Bengals on Saturday."
It will be a winter gift for the DORA district and a January boon for water points like the Holy Grail.
The first two months of the year are normally a downtime for bars and restaurants along the river.
"We're with the beer vendors as we speak right now, trying to get two sports trucks to come here on Saturday because we think it's going to be such a big day," said Jim Mohring, owner of The Holy. Grail.
Kitty's Sports Grill near Third and Elm is closest to Paul Brown Stadium.
Billy Watson will spend three days smoking thousands of wings.
"I think I even said that probably 4:30 pm Saturday would be the best. And that's what we got," Watson said.
What Koch's Sporting Goods has on hand goes quickly.
The supply chain still does not seem to gain many kilometers and will no longer produce jerseys.
"Knit cups are a problem," said Chris Koch. "Any of the hats and we're lucky to have the champion hats here."
Six of them were left by mid-morning.
We watched Matt Davis chase another Ja'Marr jersey.
"Thirty years," he said. "And with Burrow and Chase, not to mention the youngsters, it's a new era for the Bengals."
Anticipation was starting to build on Monday for the end of a 31-year playoff drought.
When asked how many times she expected to say Who Dey on Saturday, Christian couldn't contain her excitement.
"I say it right away until they win. Every second, who dey. Isn't it? Here we go, who dey," Christian said.
No one could blame her. This is arguably the biggest Who Dey week in 31 years.
Bengals fan Jim Foster joked that he might not be able to sleep on Friday night. He is a longtime fan with four sons ranging in age from 20 to 30.
They don't know what a playoff victory celebration looks like in this city.
He hopes they find out after Saturday's block party near the stadium.
"Six hundred to 1,000 people at the tailgate. We've got local breweries, sixteen lots. We're going to have tons of food, enjoy it and we're just going to have fun," Foster said.
Cincinnati Center City Development Corporation will have face painting and a DJ from one in Fountain Square where the rink will be open and the game will be displayed on the LED panel.
It will be outside in the 1930s.
But the two words most used that day will not be "I'm cold", it will be "who dey?" "