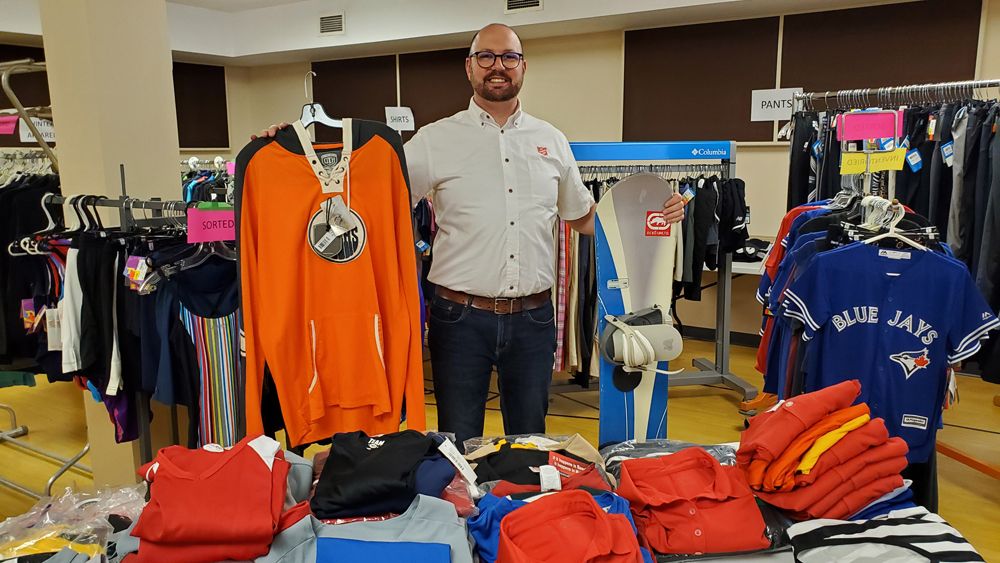 Clothing and gear owners donate remaining inventory to The Salvation Army
Content of the article
The former owners of a longtime local sporting goods store in Owen Sound have donated clothing and equipment worth an estimated tens of thousands of dollars to the Salvation Army.
Content of the article
Janice and Brian Warrilow operated Garb and Gear for nearly four decades before closing the store earlier this spring. The store opened in Goderich in 1976 before moving to Owen Sound in 1983.
After closing, the Warrilows donated all remaining inventory to the Salvation Army.
Donated items include a large amount of apparel covering all seasons, coats, licensed jerseys and hats, shoes, boots, golf equipment, skates, swimwear and other gear sportsmen.
Jory Hewson of the Salvation Army in Owen Sound said the Warrilows' donation was so large it took several truckloads to collect it and it wouldn't fit in the Army thrift store of Salvation from West 10th Street.
"We are so grateful for this huge and generous donation," Hewson said.
Most of the donation was sorted and placed on shelves and tables with the help of volunteers at the Salvation Army's largest community church on West 14th Street.
"It's so big," Hewson said. "We just couldn't get into the store. . . it was several truckloads. The vast majority of them are clothes.
All proceeds from the sale of the items will go to the Salvation Army Thrift Store, which then funds programs such as sending children to Salvation Army summer camps and community service and family members of the Salvation Army, which runs the food bank.
Some of the sportswear will also be donated to children's sports outreach programs, the Salvation Army said.
Content of the article
Hewson said there was a large amount of blank caps and jerseys, as Garb and Gear was a big supporter of local sports and made embroidered uniforms and sponsored Owen Sound teams over the years.
"We have hundreds of caps," Hewson said.
You will also find several winter hats and various cold weather clothing. Hewson said The Salvation Army is delighted to be able to donate to those in need for the upcoming winter months.
"We will be able to equip all kinds of vulnerable people who need warm hats and mittens. We want to try, as generous as that donation was, we want to try to be equally generous in giving back and giving back directly," Hewson said.
Hewson said the Salvation Army hopes to hold an event to sell some of the donated items.
"I am aware of the good the Salvation Army does in the community, and we were looking for a non-profit organization that would be able to use the donation to benefit the community and generate funds for the programs," said Janice said. Warrilow in a press release.