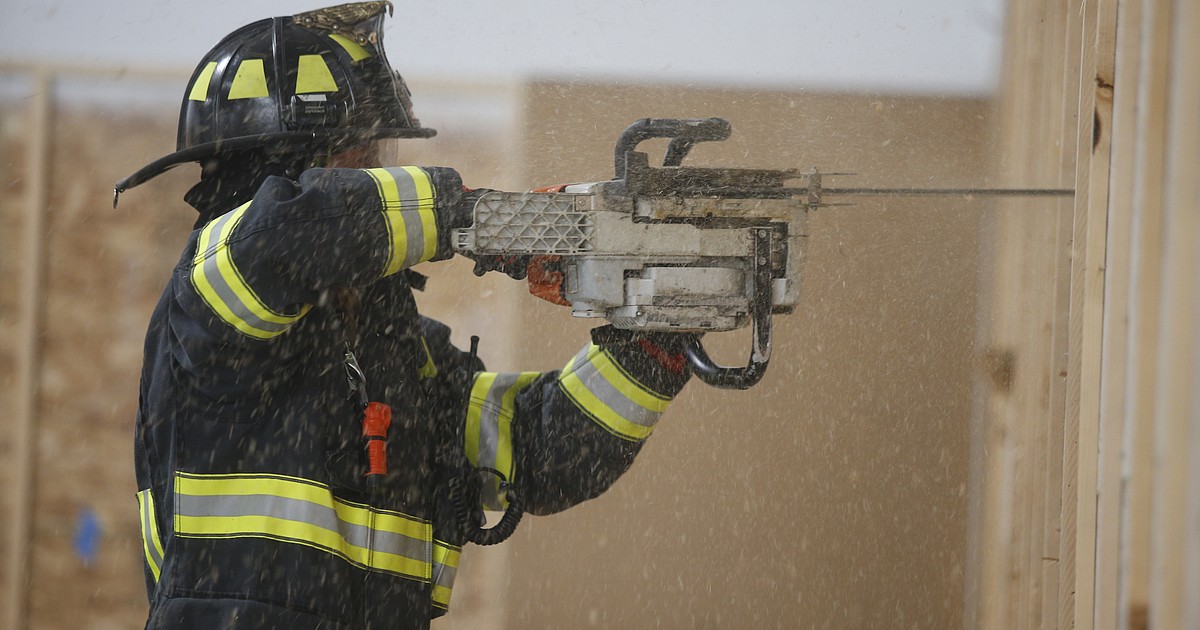 Descending formation | Bonner County Daily Bee
COEUR d'ALENE – The day before demolition of the former Black Sheep Sporting Goods building began on Monday, firefighters were cutting through the roof and smashing through the walls.
It could save lives, including their own.
"It will start or extinguish a fire," said Selkirk Fire, Rescue & EMS captain Jeff Littlefield, who is also president of Coeur Fools (Fraternal Order of Leatherheads), a training organization. "But it will keep firefighters safe by understanding roof types and how to cut them. But also know when it's not the right time to be on the roof, because it's not always the right time to be on the roof.
About 35 firefighters from northern Idaho, Spokane and the Spokane Valley spent about five hours honing their skills.
Fire engines lined up in the parking lot in front of the building just off Government Way. Some stopped to watch and take pictures, but most of the action was out of sight – on the roof or inside.
Firefighters wielded chainsaws and axes while carrying their gear.
Littlefield said firefighters face even more danger on rooftops.
"That's where we see on-duty fatalities with firefighters falling through the roof," he said. "So their knowledge will keep them safe."
Last year, Black Sheep Sporting Goods moved to Silver Lake Mall and sold the building to Costco, which plans to tear it down and turn the space into a parking lot.
Firefighters have been training there since May 3.
Littlefield said it was rare that they had the chance to use a large structure to train. Sunday's practice helped them figure out what equipment and technique to use.
Craig Etherton, Coeur d'Alene Fire Inspector, said: "…it is very rare, hardly ever, that we have the opportunity to train on commercial roofs with all of their structure intact. It has been a great opportunity for us."
He said large building fires offer different challenges than an average house fire.
"Ceilings are higher and the heat and fire can work well above firefighters' heads, giving a false sense of security about the extent of the damage happening above you," he said. -he declares.
Etherton said it's often more difficult to account for occupants in a multi-level structure.
"It's also very easy to turn around, become separated from your crew or get lost in a large structure," he said.
He said that during routine training, the roofs are usually plywood.
"But there are many layers in a commercial roof and cutting through those roofs offers unique challenges compared to a regular home roof," he said.
Northern Lakes Fire District Chief Pat Riley said the benefits of the training are many and include ladder truck operations, large area search and rescue and extended rooftop operations.
He noted that there had been a fire last week at a Home Depot in Spokane.
"Fires in these types of occupancies pose a much higher threat to the public and responders," he said.
Riley said it was good that different departments train together.
"The overall impact this has on us and the public is that we are all better trained, better prepared and ready to participate in firefighting with a better understanding of this type of occupation in this type of emergency" , did he declare.