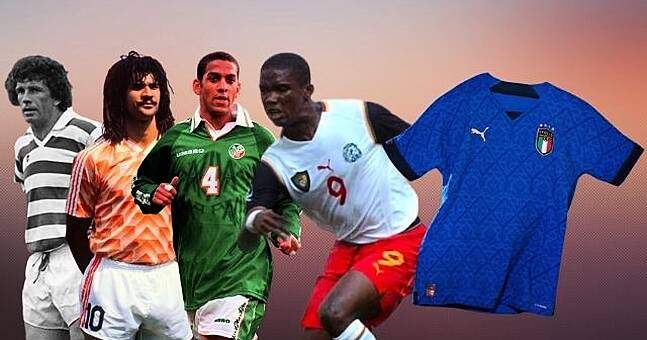 From sweaters to the lightest jersey ever made – the evolution of the football jersey
Puma this week unveiled the new and improved Italy home shirt, boldly announcing that using their patented "ULTRAWEAVE" fabric, they had produced the lightest football shirt ever made.
ULTRA-FABRIC? Here we are.

The @Azzurri will launch their kit with new ULTRAWEAVE technology tonight. And this is confirmed by @FabrizioRomano. pic.twitter.com/bGINYUKzVI

– PUMA Football (@pumafootball) October 6, 2021
"The jersey has a base frame of just 72 grams, with extreme weight reduction achieved through the woven fabric characterized by four-way mechanical elasticity that makes Puma players and teams faster and more dynamic."
Maybe someone should have told the Italian players. On Wednesday night, the European champions entered the pitch in state-of-the-art jerseys – faster and more dynamic if the press release is to be believed – and quickly lost 2-1.
It was the Azzurri's first loss in 38 games.
The result surely made Puma's PR department squirm, although, to be fair, the benefits of the lighter shirt may well become more evident over time.
This latest update got us thinking about the many technical innovations in football shirts over the past 40 years. Here are some of the major milestones.
From cotton to polyester
In the early 1980s, many brands and teams switched from cotton to polyester. The advantages of using this material were twofold. First, it had performance advantages. Polyester is lighter and therefore more comfortable, both in hot weather and in the rain (cotton jerseys tended to retain water and become heavier as a result).
Second, it has allowed brands to become more creative with their designs. With polyester, it was possible to sublimate elaborate patterns in the fabric. This process became extremely popular towards the end of the decade, producing some memorable results.
Perhaps the most famous examples are the Danish "half-half" jersey from the 1986 World Cup and the iconic Netherlands jersey from Euro 88.
Big and bold
With sublimation in full swing, the '90s became synonymous with brash and extravagant kits rich in wild patterns and vivid colors.
Things have taken a drastic turn from a construction standpoint as well. Suddenly much looser and looser jerseys and shorts started to appear, and smaller, leaner footballers started to disappear inside huge equipment that was often big enough for two.
really miss the glory days of baggy soccer jerseys. Teddy Sheringham could hide anything up his sleeves here pic.twitter.com/MFjQDSE499

– Gar Goyle (@thegarydoyle) February 9, 2019
Tottenham Hotspur are credited (or should they be 'blamed'?) For this particular trend. For their 1991 FA Cup final against Nottingham Forest, Spurs took to the Wembley pitch in Umbro shirts with longer sleeves than usual and shorts that came down to the knee. Before that, shorter shorts (closer to the GAA style, which has remained in vogue to this day) were more common.
The baggy era produced unforgettable images of petite to full-size men made to look like children as their oversized clothing engulfed them. The fact that teams often received wide or extra-large jerseys as standard didn't help much in this regard.
The Kappa Kombat 2000
Italy Euro 2000 Home Shirt

In the world of baggy soccer jerseys, Kappa has changed the game with his ultra slim jerseys for Euro 00

Lycra blend made this shirt a trailblazer and said goodbye to puffed sleeves and shirts pic.twitter.com/HMkNWDRfYg

– Upper90CustomJerseys (@ CustomUpper90) April 11, 2020
Italians are known for their sartorial excellence, so it's no surprise that they came up with the next major innovation.
For Euro 2000, Italy sported a form-fitting Kappa jersey that could hardly have been more radical considering what had happened before. The new garment, dubbed the Kappa Kombat 2000, was not only tighter, but had a lot more elasticity, a performance advantage that would give the attacker an advantage as it allowed him to stretch further from defenders. pesky people who intended to push them back.
The style has been replicated by other brands, although it takes several years before tight-fitting clothing becomes the norm.
Cameroonian innovation
In 2002, Cameroon turned heads at the African Cup of Nations by showing up in Mali with sleeveless jerseys. The positive side of wearing this unique Puma shirt was pretty obvious. It is hot in Mali. Less clothes = cooler players.
The longshoremen have served the Indomitable Lions well. They won the competition by beating Senegal on penalties in the final.
However, FIFA intervened (no happy story has ever started with those three words) and ordered Cameroon to stop wearing the sleeveless shirt as it went against the association's rules on football equipment. From that point on, the home and away sleeveless shirts were worn with a black undershirt, as was the case when the African champions faced Ireland in the FIFA World Cup. world 2002 in Japan.
FIFA won that particular battle, but Eto'o and co. had another trick up their non-existent sleeves.
Puma's next kit would prove to be even more unusual: an incredibly daring all-in-one shirt and shorts combination. Sepp Blatter was not a fan. Cameroon wore it anyway and faced a hefty fine and World Cup qualifying points deduction for their troubles, though the penalty was later overturned when Puma threatened legal action.
Cameroon 2004 one-piece kit pic.twitter.com/L1UO9yjdKA

– AfricaFootballClassics (@AfricaClassic) March 31, 2020
Cameroon x Puma innovations attracted attention but ultimately never caught on.
Focus on performance
Throughout the first decade of this century, brands began to market the performance benefits of their soccer jerseys like never before. Nike had its Cool Motion jerseys in 2002 which featured perforated segments designed to keep players cool in the Japanese and Korean heat.
It worked for Brazil. In their signature Cool Motion kits, and with Nike superstar Ronaldo in the foreground, they won their fifth World Cup by beating Germany in the final.
At this time, adidas also presented its ClimaCool technology. Fabrics with ClimaCool are said to wick perspiration away from the body and increase micro-ventilation thanks to their mesh panels. The material has been used for a wide range of clothing and has become a common feature of all adidas football kits.
Many brands have since developed their own versions of this type of technology.
Over the past decade, jerseys have become more fitted (sometimes much to the dismay of regular football fans with normal body types). Gone are the days of puffed sleeves.
The lightest jersey ever
Which brings us to Puma's latest effort, the "lightest jersey of all time". Although it looks a lot like the jersey Italy wore in their Euro 2020 final victory over England, the new jersey is made of only two panels of material, which reduces the number of seams and therefore improves aerodynamics and increases comfort.
It might not have done much good for Roberto Mancini's men against Spain on Wednesday night, but it could well be the future of football shirts: as light and aerodynamic as it gets.
SEE ALSO: The 5 Best Ireland Umbro Home Shirts