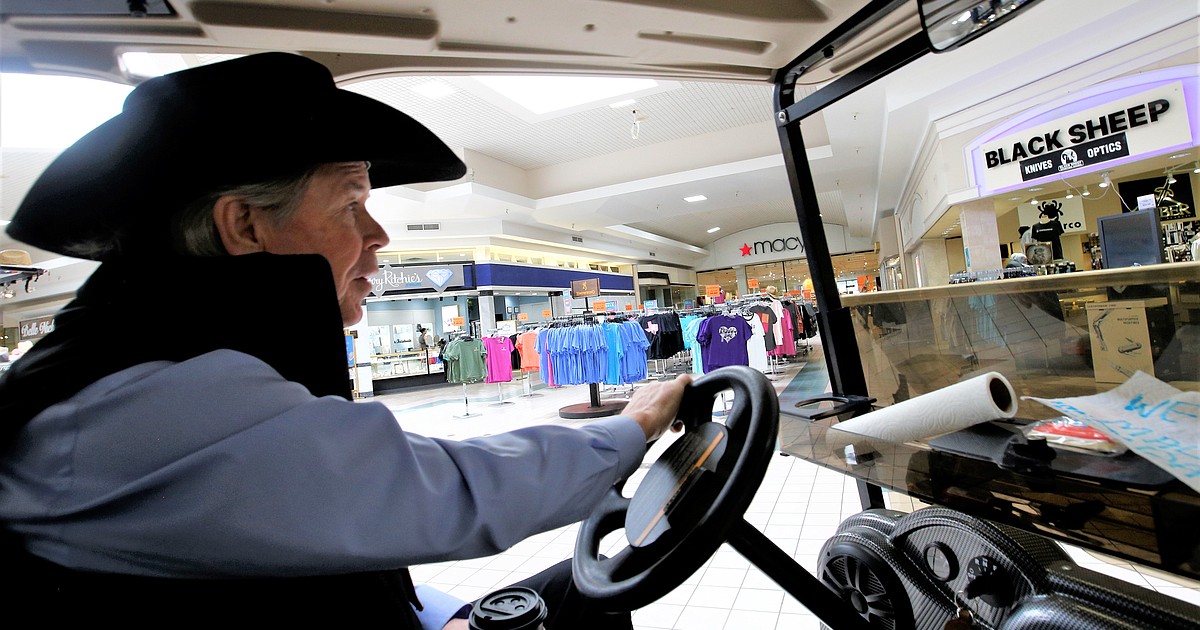 "Our dreams are big" | Coeur d'Alene Press
COEUR d'ALENE – This week's demolition of what once housed Black Sheep Sporting Goods might have left Dave Knoll feeling a little down. After all, he owned it.
No way.
"My thinking about the destruction of this building was positive," he said Tuesday as he drove a cart around the Silver Lake Mall.
And the reason is, he explained, that it was first owned by a competitor that opened in 2007.
"We overcame it and ended up with their building," Knoll said with a smile.
It worked well for Black Sheep.
They operated in this 50,000 square foot store near Government Way and Neider Avenue for almost eight years until 2021.
"Business was really, really good," Knoll said. "There were good years there.
But they had bigger projects that required some risk.
They sold the building to Costco for an undisclosed amount, which in turn this week began demolishing it to make way for an expanded parking lot.
"We wanted to move the business forward by having more space, so the opportunity arose when Costco bought this building from us and allowed us to go and buy the mall," Knoll said.
The Knolls are longtime locals who have operated retail stores throughout the North West for many years. Dave and Barbara are perhaps best known as the owners of Black Sheep Sporting Goods, which was founded in 1975 in Coeur d'Alene.
They bought the struggling Silver Lake Mall in early 2021 and moved Black Sheep Sporting Goods there in place of JC Penney, which closed last year. The site has been emptied and reorganized.
Their long-standing goal is to breathe new life into the struggling mall, help businesses thrive, make it a great shopping experience and showcase products.
With their son Brian Knoll leading the show as general manager, they are confident in their journey.
"It was kind of scary coming out of the chute not knowing if we would be forwarding our customers," Dave Knoll said. "But it was a total positive. Our sales are on the rise."
The pinnacle of their efforts soon comes as they celebrate Black Sheep's new 100,000 square foot home which has approximately 100 employees.
They are gearing up for a grand opening party June 10-12. It will be a weekend of family activities, prizes, music and guest appearances.
Industry professionals and outdoor product leaders like Mossberg, Hornaday and Berkeley will be on hand. Celebrities will talk about hunting and fishing.
Knoll said they were expecting over 10,000 people.
"It should be a good time," he said.
Knoll is proud of the many awards displayed on the shelves near his desk that Black Sheep has won over the years.
He quickly summarizes his story:
"The original Black Sheep was 2,000 square feet. It was demolished to make way for a 5,000 square foot store. And then, five years later, we built a 20,000 square foot store with a 10,000 square foot extension. And then we moved from that place into our building that was demolished, at 50,000 feet, and now we're in our 330,000 square foot mall. So we grew and as Brian likes to say, we reinvested every dollar we earned back into our business.
As he walks through the mall, Dave Knoll wears a black cowboy hat and vest. He wears a badge that reads "Mall Daddy". It's his nickname, the one he clearly loves.
Friendly and chatty, he greets tenants and customers with smiles, compliments and conversation.
"We have great security," he said, nodding toward a security guard.
"Angila, pose for a photo," he told Angila Gleason, store manager of Harry Ritchie's Jewelers.
She does, along with deputy director Dominique Shedenhelm.
The mall is buzzing almost daily. It is filled with businesses.
"There were 12 dark spaces here when we took over," Knoll said. "They are all full."
How did they do this?
"Just from the good vibes of Black Sheep," Knoll said. "A pillar in the community. That and hard work.
It houses Planet Fitness where Sears once stood, and Macy's remains an anchor tenant.
Recent arrivals include Bear Paw Cookies, Macadamia Coffee and Memory Gems.
Water World, also owned by the Knolls, is under construction at the east end of the mall and will offer all things water related.
"We're going to do a ton of business in water sports," Knoll said. "We sell 6,000 inner tubes every year and 1,000 kayaks."
The Knolls are strong believers in concept stores that offer a specific range of products, such as Knives and Optics, Hydration Station and American Heritage, all of which are Black Sheep stores.
"When you walk into a concept store, you're focused on buying a particular product," Knoll said.
He is proud of the influence of Black Sheep.
"It's the heart of the mall here," he said. "It attracts people. Everyone's business has been up since we've been here."
Their work is not finished.
Knoll hopes to lure some big names in the food industry to the mall property along Government Way and Canfield Avenue, like In-N-Out Burger and Chick fil-A. Trader Joe's is on her wish list.
"Our dreams are big," he said.
Even for his golf cart.
He will soon be driving a new, bigger and better six-seater.
"I'll take people everywhere," he laughed.