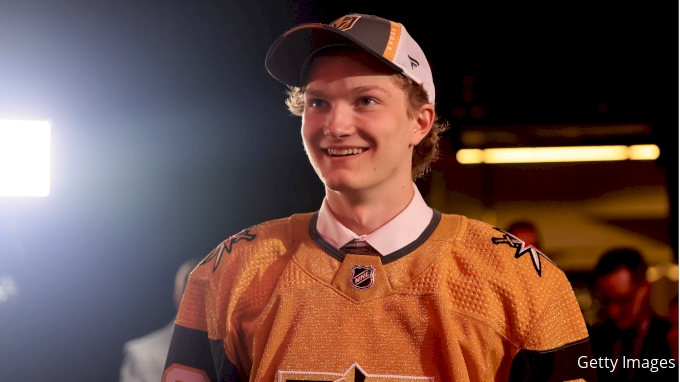 USHL Fall Classic: Whitehead shines for Lincoln, goals galore on Day 2
CRANBERRY TWP., Pa. — If there was a theme for Day 2 of the DICK'S Sporting Goods USHL Fall Classic, it would probably be goals galore. Each match featured one of the teams scoring six or more goals on the way to victories. A total of 38 goals were scored in the five games, an average of 7.6 goals scored per game. So if you liked to score, Friday's games were made for you.
Despite all those goals scored, there were also two shutouts. Sioux Falls Stampede rookie goaltender Jackson Irving stopped 27 of 27 shots against the Cedar Rapids RoughRiders as the Stampede won 8-0, while Vegas Golden Knights draft pick and goaltender of the Lincoln Stars Cameron Whitehead capped off his weekend with a 30 shutout stoppage of the Green Bay Gamblers.
As we head into day three of action and six new teams join us in Pittsburgh for this event, three teams will head the other way with 2-0 records. The Chicago Steel, Lincoln Stars and Tri-City Storm pulled off a perfect Fall Classic.
So let's take a look at some of the notable performances and highlights from Friday's action during the USHL's season-opening showcase.
Cameron Whitehead's hot start powers Lincoln
The top-drafted goaltender in the USHL last season ranked 126th overall by the Vegas Golden Knights, Cameron Whitehead's pedigree has never been in question. After two games, however, the 19-year-old Ontarian reminded the rest of the league that goals won't come easy against the Lincoln Stars.
Whitehead appeared in both of Lincoln's matches at the Fall Classic and put on some impressive performances. The team played well in front of him, especially against Cedar Rapids when they allowed just 16 shots on goal, but of the 46 shots Whitehead faced, he stopped 45. His save percentage of .978 currently leads the USHL and is one of only two goaltenders to play in both full Fall Classic games.
Committed to Northeastern University, which is expected to lose top goaltender Devon Levi after next season, Whitehead is certainly making Huskies fans feel more confident about their future in goal.
Sioux Falls bounces back big
The Sioux Falls Stampede looked to be off to a good start Thursday when they took an early 2-0 lead over the Muskegon Lumberjacks. Those good vibes didn't last long as Muskegon stormed back to score five goals in the first on their way to a 7-4 win. If the loss deflated Sioux Falls, they didn't show it Friday.
Boosted by a hat trick from Samuel Harris and a strong goaltender from young Jackson Irving, the Stampede edged past Cedar Rapids 8-0. Will McDonough, a 2023 NHL Draft eligible, also stayed hot with the goal that opened the scoring just 2:54 from the start of the game before Harris took over with his own goals. Forward Ryan Gordon also had three points and led the team with a plus-5 rating.
Sacha Boisvert to come as announced
Much attention has been focused on Macklin Celebrini as the best player born in 2006 in the USHL, but another is off to a good start. Sacha Boisvert completed his first Fall Classic with three goals, including a brace on Friday in Muskegon's loss to a solid Tri-City team. Boisvert has decent size and strength for a 16-year-old and has shown he can play in a league that can sometimes be unforgiving for younger players.
Boisvert showed good poise and a top-of-the-range finish despite his youth. After scoring 51 goals in 56 games for Mt. Saint Charles in the 15U ranks last season, you never quite know how much that ability will translate to. The first indication, however, is that Boisvert's touch came with him in the junior ranks. Signed from the University of North Dakota, Boisvert is only eligible for the NHL draft in 2024.
Tri-City gets off to a good start
The Tri-City Storm had the best record in the USHL last season before retiring to eventual champion Sioux City in the second round of the playoffs. If that left a bitter taste in the mouths of the revenants of Tri-City, they channel that disappointment well. The Storm picked up a pair of victories at the Fall Classic, beating the Madison Capitols and the Muskegon Lumberjacks.
Graham Gamache, who was on the team last year, was the Storm's go-to offensive talent in the first two games scoring a goal in each and finishing his Fall Classic with a total of four points. Tri-City also had the chance to bring in its two imported goaltenders as Austrian Sebastian Wraneschitz and Latvian Karlis Mezsargs started in Pittsburgh.
The Storm have a lot of new faces on the roster which is going to make it difficult for them to repeat as Anderson Cup champions like they did last regular season but get two wins away from home at the Classic Fall is really about starting things right.
Celebrini victory wounded in steel
The Chicago Steel were happy to leave Pittsburgh with two wins, but all was not well. Prized rookie Macklin Celebrini kept up his stellar first weekend in the USHL by notching two assists. However, he didn't take a shift for the second half of the second period and didn't dress for the third.
The Steels need time to assess the injury, which is believed to be some kind of upper body ailment. It's unclear how serious this could be or if the Steel were just being extra cautious with the 2006-born player so many people are already talking about.
Prior to the injury, however, Celebrini had lived up to the hype. After scoring in his first game, he was making all sorts of plays in his second game. He assisted on two of the Steel's goals in their win over defending Clark Cup champion Sioux City and showed off his elite level of skill. At some point during that second period, Celebrini got injured and didn't return.
Friday scores
Lincoln Stars 6, Green Bay Players 0
Chicago Steel 7, Sioux City Musketeers 4
Sioux Falls Stampede 8, Cedar Rapids RoughRiders 0
Tri-City Storm 6, Muskegon Lumberjacks 4
Fargo Force 8, Madison Capitols 1
Saturday schedule
Dubuque Fighting Saints vs. Des Moines Bucaneers, noon ET
Youngstown Phantoms vs. Waterloo Black Hawks, 2:30 p.m. ET
U.S. National Under-18 Team vs. Omaha Lancers, 5:30 p.m. ET